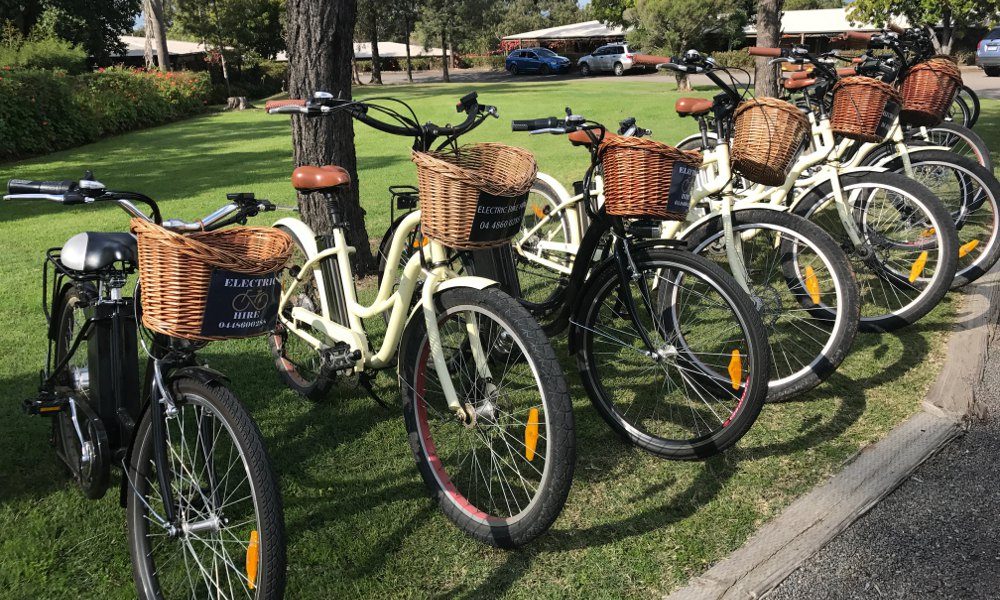 Electric Bike Hire Hunter Valley
Come and see the Hunter Valley by motor assisted bike and you will be amazed how easy they are to ride and make your experience so enjoyable. Peddle if you like, or don't peddle up those hill if you don't feel like it. A great fitness experience especially for corporate events/ families or large groups. Visit the many wineries in motorised style and enjoy the wind in your hair.
Tour the vineyards by motor assisted electric bike style. Please come and try the bikes and you will be pleasantly surprised how easy they are to ride.
Glenn Sutton or Phillippa Sutton will give you an induction and training when you arrive. We go through the features of the bikes and how to operate. We require a waiver signed, bike inspection completed and helmet fitting before you get to ride. Payment required before you leave the property.
We will go through the local area map and suggested places to visit depending on your needs and likings. We offer on road servicing (the phone number is on the basket) and also offer pick up on request for full day hire (minimum 4 people).
Sutton Estate hire in the Hunter Valley is the best way to experience the serenity of the beautiful winery views, to experience some of the best wineries and the best produce by motorised bike will make your trip very memorable. With the fresh air, the beautiful vines, amazing restaurants, delectable food including chocolate and cheese's, and fabulous scenery, its an experience that's highly recommended on your trip to the Hunter Valley. We have extensive knowledge of the Hunter Valley and we look forward to sharing our piece of paradise with you.
More Information
Call: +61 448 600 288
* Please note Electric Bike hire is operated by Sutton Estate Electric Bikes not Hunter Valley Resort